November 11, 2021
This award, granted by Mutual de Seguridad, recognizes and intensifies Abengoa Chile's interest in the occupational health and safety of its workers.
November 11, 2021 - Abengoa, an international company that applies innovative technology solutions for sustainable development in the infrastructure, energy and water sectors, has been recognized by Mutual de Seguridad of the Chilean Chamber of Construction with an award for completing two million man hours without lost time accidents on the 220/23 kV and 220/6, 9 kV substations at the Quebrada Blanca mine, phase 2, in the Tarapacá Region, in northern Chile, where Abengoa is developing the engineering, procurement and construction of a line and six 220 kV electrical substations.
Specifically, Mutual de Seguridad has recognized Abengoa for its leadership capacity and constant commitment to operational risk control and occupational health management. In addition, it has highlighted the dedication and work for the benefit of its workers during the development of the contract, as well as throughout the COVID-19 pandemic. All this, thanks to the commitment also of all its team with the fulfillment of the preventive measures of awareness and control, carried out in the day to day of the company.
Abengoa received the recognition on Thursday, November 11, from Ivan Ulloa, Manager of Mutual de Seguridad de Iquique, who presented the award to Andres Flores Espinoza, project manager, and Hugo Astudillo Torres, HSE manager of Abengoa Chile.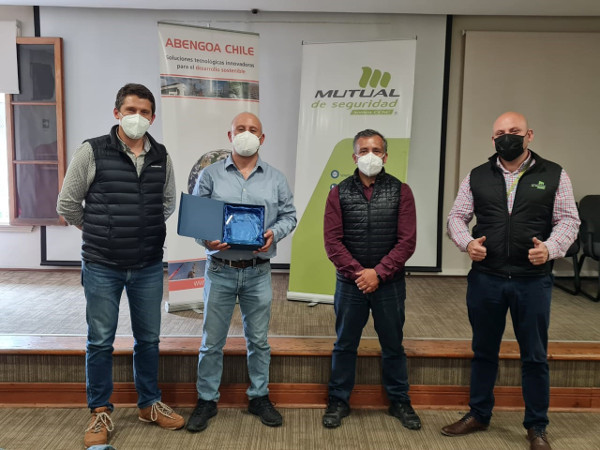 (from left to right) Andres Flores Espinoza and Hugo Astudillo Torres from Abengoa Chile, Waldo Cruzat from Bechtel and Ivan Ulloa from Mutual de Seguridad.
Click here to download in HD.
About Abengoa
Abengoa applies innovative technology solutions for sustainability in the infrastructure, energy and water sectors. (www.abengoa.com)
Communication Department:
Marián Ariza
Tel: +34 954 93 71 11
E-mail: communication@abengoa.com
Investor Relations & Capital Markets:
Gonzalo Zubiría
Tel: +34 954 93 71 11
E-mail: ir@abengoa.com

And on our blog: http://www.theenergyofchange.com