August 13, 2019
It was awarded by the Oman Electricity Transmission Company (OETC).
August, 13th 2019 – Abengoa (MCE: ABG/P:SM), the international company that applies innovative technology solutions for sustainability in the infrastructures, energy and water sectors, has received a new recognition for its "oustanding performance" in the works developed in two substations in Oman by its client the Oman Electricity Transmission Company (OETC).
This recognition was presented by North Al Sharquiya Governor His Excellency Sr. Yahya Bin Hamod Bin Hamas Al Mamari during a ceremony that took place in the region of Al Sharquiya North. This is not the only award received by the company during the execution of this project. Last month, Abengoa received another recognition by the OETC after achieving 1.5 million hours without Lost Time Work Accidents.
The Samad & Sinaw Project was completed successfully last June. The company developed the construction, supply, assembly and commissioning of two new substations of 132/33 kV, one in Samad and the other one in Sinaw, and more than 60 km of overhead transmission lines of 132 kV associated with them, whose main technical challenge was to cross the mountainous areas of the interior of Oman.
Abengoa is stablished in Oman since 2012. This is the second transmission project successfully completed in the country after the Al Dreez Substation, which together with Samad & Sinaw project, is part of the OETC investment plans to strengthening and expanding Oman's electricity network.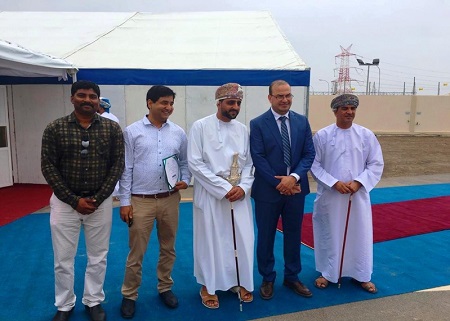 About Abengoa
Abengoa (MCE: ABG/P:SM) applies innovative technology solutions for sustainability in the infrastructures, energy and water sectors. (www.abengoa.com)
Communication Department:
Marián Ariza
Tel: +34 954 93 71 11
E-mail: comunicacion@abengoa.com
Investor Relations & Capital Markets:
Gonzalo Zubiría
Tel: +34 954 93 71 11
E-mail: ir@abengoa.com

And on our blog: http://www.laenergiadelcambio.com