July 4, 2019
This award recognizes Abengoa´s high interest for its workers' safety.
July 4th, 2019 – Abengoa (MCE: ABG.B), the international company that applies innovative technology solutions for sustainability in the infrastructure, energy and water sectors, has been recognized in the area of health and safety, within the framework of a safety campaign for works at heights promoted by Mutual de Seguridad, part of the Chilean Chamber of Construction.
This recognition is part of the first edition of the Campaign of Works at Heights 2018, in which Mutual de Seguridad promotes the prevention and reduction of occupational accidents of special severity (serious and fatal) related to heights. Abengoa has actively participated in the campaign, carrying out motivational activities, specific training, field work, and other related to ergonomics in the workplace, quality of the equipment and group dynamics. In this context, the Quebrada Blanca project, in which the company is responsible for the engineering, supply and construction of several transmission lines, has received the award.
In addition, Abengoa procures and uses personal protective equipment for work at heights that meets and exceed the technical standard on existing personal system for falls detection, which allows all workers to carry out their activities, both at heights and other works in an ergonomic and safe manner. This is part of Abengoa's commitment to promote the prevention of accidents and occupational diseases, in order to improve the occupational health of its operations and to create safe and healthy work environments.
The award ceremony, held on July 4 in Santiago, Chile, was attended on behalf of Abengoa by the head of Prevention of Occupational Hazards for Chile, Leonardo Viran, and the contract manager of the winning work, Ignacio Moyano.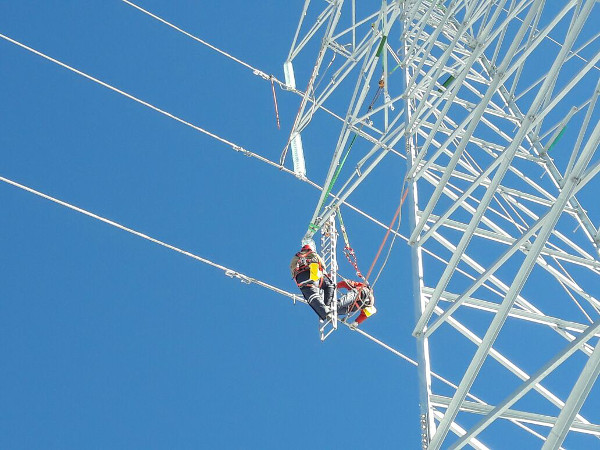 About Abengoa
Abengoa (MCE: ABG/P:SM) applies innovative technology solutions for sustainability in the infrastructures, energy and water sectors. (www.abengoa.com)
About Mutual de Seguridad
Private institution in charge of risk prevention actions, services and treatment of work accidents and occupational diseases. Created by Law No. 16,744 on Work-Related Accidents and Occupational Diseases in Chile.
Communication Department:
Marián Ariza
Tel: +34 954 93 71 11
E-mail: comunicacion@abengoa.com
Investor Relations & Capital Markets:
Gonzalo Zubiría
Tel: +34 954 93 71 11
E-mail: ir@abengoa.com

And on our blog: http://www.theenergyofchange.com