May 28, 2019
These awards were granted within the annual recognition program of the petrochemical company.
May 28th, 2019 – Abengoa (MCE: ABG/P:SM), the international company that applies innovative technology solutions for sustainability in the infrastructures, energy and water sectors, has been recognized in health and safety matter by the petrochemical firm Sabic Innovative Plastic, world leader in its sector, as well as best contractor of the year.  
Abengoa, through its Transmissions and Infrastructure vertical, was recognized for its outstanding performance and significant contribution to its client Sabic, for whom Abengoa carries out the maintenance of the plant that Sabic has in Cartagena.
Thus, the recognition for Best contractor of the year was delivered as part of the Sabic's Supplier Recognition Program, whose first edition was held this year. Through this program, those suppliers who, for their service and performance have contributed significantly to achieving the objectives of Sabic at European level, are honoured.
In addition to this, Abengoa has also received the Gold recognition in terms of health and safety within the ninth edition of the Sabic European Contractor Safety Awards. Since the constitution of the 'Sabic EHSS Award for Global Contractor' in 2011, Abengoa has participated and been recognized in all editions, having achieved the Silver category twice, Bronze in two others and the recognition as a finalist in the rest. Apart from the European awards, Abengoa was awarded with the Silver Winner during 2014 world edition.
Awards ceremony was held on May 8th and 9th in the Netherlands and was chaired by Harbinder Bhanvira, Procurement Director for Europe and Michael Mueller, Vice-president of Manufacturing Europe & APAC, and Paul Tockt, EHSS Manager at Sabic Europe.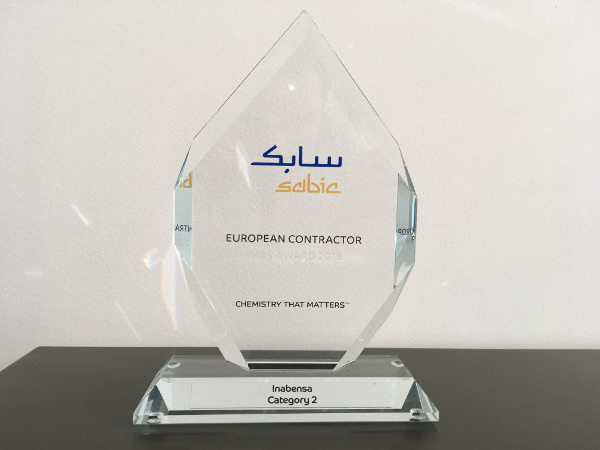 About Abengoa
Abengoa (MCE: ABG/P:SM) applies innovative technology solutions for sustainability in the infrastructures, energy and water sectors. (www.abengoa.com)