March 26, 2019
This initiative aims to show the best practices of corporate social responsibility and the leading business projects in the responsible technological transformation field.
Abengoa Digital Workplace is the technologic proposal of Abengoa that allows to get the digital transformation to the company's groups of interest.
 Abengoa (MCE: ABG/P: SM), an international company that applies innovative technology solutions for sustainability in the infrastructures, energy and water sectors, has received the Enterprise 2020 recognition for its initiative Abengoa Digital Workplace by Forética, the leading Association of companies and professionals of corporate social responsibility/sustainability in Spain and Latin America.
Abengoa Digital Workplace is the technological value proposal that Abengoa is implementing to create solutions that promote collaboration, participation, mobility and access to real-time information by its stakeholders, to continue evolving on its sustainable model.
The Enterprise 2020 initiative aims to promote and show the best practices of Corporate Social Responsibility (CSR) and constitutes a line of action of the European CSR Strategy promoted by the European Commission. This edition, under the theme "Future of Work", recognizes those business projects that, like Abengoa Digital Workplace, are a benchmark in the responsible technological transformation and young employability field.
The diploma ceremony took place on 26th March, in Madrid, at the headquarters of the Ministry of Labour, Migration and Social Security.
Abengoa keeps a business model based on three axes: social responsibility, transparency and rigor in the management and promotion of the entrepreneurial spirit. Forética's recognition reaffirms the company's commitment to its stakeholders and encourages it to continue working on the same line.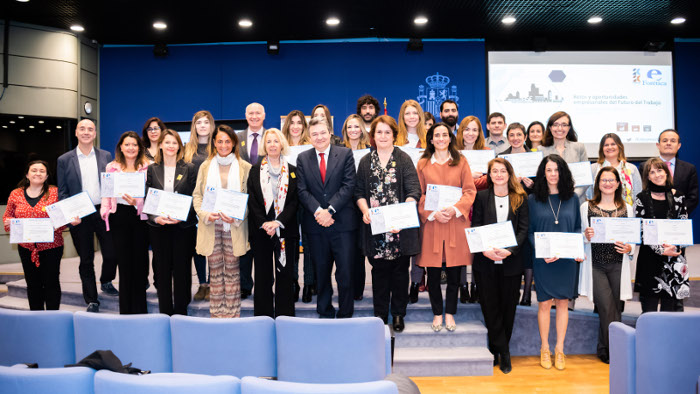 About Abengoa
Abengoa (MCE: ABG/P:SM) applies innovative technology solutions for sustainability in the infrastructures, energy and water sectors. (www.abengoa.com)