Abengoa, present at the International Meeting of Women Leaders America
June 19, 2023
On 9th and 10th June, the fifth international meeting of Women Leaders of America was held at the Trade Fairs&Congress Center of Málaga (Spain), an initiative that promotes female leadership and awareness of the need for real equal opportunities and the need to have leading women.
June 19, 2023 – Abengoa, the international company that applies innovative technology solutions for sustainability in the infrastructure, energy and water sectors, has been present at the International Meeting of Women Leaders of America, on June 9 and 10, in Malaga (Spain). This edition's program has focused on technology and sustainability and has had the participation of leading women from different countries and sectors who have shared their experiences in the business world.
Roser Castelló, Diversity and Equality director of the group (CDO), who participated on behalf of Abengoa, who spoke at the round table on Challenges and Trends in business equality and diversity, addressing the situation of women with respect to what is known as STEM careers and their impact on the incorporation of female talent in technology and engineering companies. As Roser Castelló explained, "the percentage of women who study STEM careers is low, around 30% on average in the world and 27% in Spain, and it is important that they promote from the Institutions, as it comes doing, for example, the United Nations and the United Nations, but also, from companies, the technological and innovative vocation in women and girls".
In this sense, Abengoa's CDO presented some of the initiatives that Abengoa is carrying out, such as the "Abengoa Work Experience", aimed at Secondary School and Baccalaureate students, with the aim of making students aware of the importance of technology and engineering through its practical applications and how they help to improve society based on sustainable development. "This initiative, which is already in its 7th edition, helps to motivate them to carry out STEM studies and the results that are being obtained are very satisfactory", she declared.
Likewise, Roser Castelló highlighted the importance of raising awareness and visualizing diversity and equality in companies, and the need for it to be a company culture reflecting the principles in the company's management system, as is the case at Abengoa.
"Society is diverse and the company must be a reflection of it, and, although it evolves favorably, we are all aware that there are prejudices and stereotypes entrenched in part of society, and this is precisely where companies, all of them, but particularly multinationals, due to their driving capacity and scope, must become ambassadors of an adequate culture of diversity and equality and be benchmarks of good practices", commented the CDO Abengoa.
After this positive experience, Abengoa is already evaluating its participation in other initiatives. Next July, Abengoa will participate in the event for the Presentation of the Women Approved Report 2023, which is held in Barcelona, to which the company has been invited to give its point of view on the best practices of companies in the STEM sector 2023.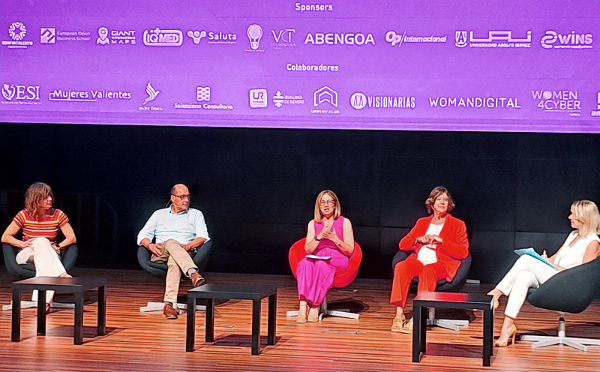 Round table. Challenges and trends in business equality and diversity. From left to right, Roser Castelló (Abengoa), Joaquín Franco (Saluta), Mª José Andrade (Presenter and moderator), Lourdes Cruz (Andalucía Technology Park), Olena Opanasenko (Coral Club Spain).
About Abengoa
Abengoa applies innovative technology solutions for sustainability in the infrastructure, energy and water sectors. (www.abengoa.com) 
Communication Department:
Rocío Castro Moreno
Tel: +34 954 93 71 11
E-mail: communication@abengoa.com

And on our blog: http://www.theenergyofchange.com