Pablo Infante: "There are investors interested in the entire Abengoa group"
September 11, 2022
ABC de Sevilla, Maria Jesús Pereira. 09/11/2022
Pablo Infante: Chairman of Abenewco1, Abengoa's operating subsidiary.
The subsidiaries that concentrate the business of the multinational Abengoa are for sale to avoid their liquidation and suffer the same fate as their parent company.
Pablo Infante becomes Chairman of Abenewco, Abengoa's operating subsidiary, when the group's parent company is in liquidation and the main businesses of this Seville-based multinational are up for sale. His role now, together with that of the bankruptcy administration and the Mercantile Court, is to look for investors to save the group, whose debt amounts to 4,800 Million, although SEPI has warned that it has 2,000 Million in tax contingencies, 943 Million in judicial and extrajudicial lawsuits and 600 Million in guarantees which could be executed, so that the debt could amount to 9,000 Million in the worst case scenario.
-Since 2016, you are the fourth chairman of Abenewco after Felipe Benjumea, Gonzalo Urquijo and Juan Pablo López-Bravo. After almost 27 years working at Abengoa, you come to the chairmanship of the board of directors of its operating subsidiary at a delicate and at the same time decisive moment for the company. What does the future hold for Abengoa?
 -It is indeed a delicate moment for all of us, especially for those of us who have spent our whole lives in this, our company. For this very reason, and with the pride I feel for having spent my whole life working in Abengoa, and now as chairman of Abenewco, I can only say that I am going, or rather, that we are all going to work hard to keep the group operational and make the restructuring process possible, focusing on maintaining activity and employment, and to make the entry of a new investor a reality.
-How long will suppliers and financial creditors wait to collect their overdue debts?
-We are currently working with all our stakeholders, including of course our financial creditors and our suppliers, to find the best solution for the whole group and, in fact, the commitment we have from all parties is precisely to help in this regard. In the words of practically all the groups, they want to "be part of the solution".
-What is the deadline for Abengoa to save itself?
The companies in pre-bankruptcy within Abenewco's operating group would finish this phase on October 30. I would like to emphasize, on the one hand, that there are Abenewco companies that are not in pre-bankruptcy and that, in any case, after that moment there are decisions that can be taken in one direction or another but that, for the moment, we cannot prejudge or anticipate.
-Is it enough time to avoid the liquidation of the group?
-We are working hard to reach an acceptable agreement for all the stakeholders, and we are finding a very good predisposition and interest on the part of each one in seeking a viable and feasible solution for all. Having said this, I do not want to err either by default or by excess in my assessments and I would not dare to make a prognosis, since we are the first ones who want to see the situation in a positive light and we are working very intensely on that.
-Do you foresee any more subsidiaries filing for bankruptcy or pre-bankruptcy in the coming weeks?
-Not for the moment, but the Board of Directors will always act with the utmost diligence and when the time comes, we will make the decisions that best protect the company and its stakeholders.
-Will Abengoa continue to exist as we know it, as a leading integrated group in water, energy and infrastructure services technologies?
-I am fully confident that it will, and not only based on the knowledge I have of the company, its business units and its fully cohesive teams, with obvious synergies from many points of view, but also on the fact that a large part of the investors who are approaching the company are expressing this and showing their interest in the whole group.
-So, will it be possible to save all the production units?
-We are working to keep all the production units together and to safeguard the group as it is at present.
-Besides Lantania, Acciona and Técnicas Reunidas, how many requests for due diligence have been presented by companies interested in buying any production unit?
-I could neither confirm what you are asking me, including the names you mention, nor refer to any specific company or group. The interest we have aroused in the market is incredible, and although we were confident of our capabilities, it makes us very proud to see so many companies genuinely interested in us. But I am afraid I cannot be more specific at the moment because, as you know, these types of actions, in addition to being subject to a process under judicial supervision, are subject to the signing of confidentiality contracts that prevent us from disclosing more information.
-Could you at least say for which production units there are interested parties?
-I cannot detail the processes, but I can say that they are interested in all our business verticals and a large part of those interested are interested in the entire group.
-Is the TerraMar Capital fund no longer interested in buying Abenewco1?
-For obvious confidentiality reasons, we cannot assess the interest of any specific investor.
-If production units are sold and integrated into other companies, will the Abengoa name disappear?
-Well, those and other decisions will have to be taken by the future owners or investors; I can't make any assumptions about that. But I can think that that decision is not substantive now.
-How much is the Abengoa brand worth?
-We do not have a valuation in this regard, but I can tell you that today Abengoa continues to be a benchmark as a leading company in each of the sectors in which it participates and with a very high performance in all the projects it executes, being able to find innovative engineering and project execution solutions that maximize value for its clients and the rest of its stakeholders. An example of capacity, and I would add resilience, is the more than four billion euros we have contracted in the last six years.
-How many employees does the Abengoa group have left?
-In the Abenewco group of operating companies we are now approximately 11,000 employees of which we are about 2,000 in Spain, mainly in Andalusia.
-Can the group afford to pay its salaries in the current situation?
-I do not hide the fact that we are facing, in general terms, difficulties in relation to all payment obligations, but I can say that for now we have been able to meet all our commitments, and have no doubt that we will continue to work hard, every day with all the tools and all the levers we have at our disposal to preserve our most valuable asset, which are people.
-Abengoa continues to be a powerful brand in the water, energy and infrastructure sectors...What is your current portfolio?
-Abengoa and its group of operating companies continue to be a benchmark in all the sectors it indicates, where we continue to bid, contract and execute works even with the financial limitations we have and which are obviously affecting us. However, our current portfolio allows us to maintain the activity and at the same time prepare for a very challenging year 2023, where we will surely return progressively to the contracting levels of past years.
-Do you think that the round table that has been set up between the Board and the Government to save Abengoa can be of any use now?
-The matters discussed in this technical round table convened by the Government through the Ministry of Industry, Trade and Tourism, and in which the Regional Government of Andalusia also participates, are strictly confidential and I cannot give details of what has been discussed, but I can assure you that the involvement of all the interested parties is extremely high, and that each of the steps being taken pursue the same objective we have: to make viable and preserve activity and employment.
-Lantania hired more than 30 Abengoa workers from the water unit. Now it is investigating whether some workers who left the company took thousands of documents. Is your greatest asset now your workers?
-Of course, our greatest asset is our workers. We are sorry that some magnificent professionals have made decisions to seek new paths in their careers, and I am not referring exclusively to those you mention, but thousands of others continue to work hard in Abenewco's different companies. It is an objective fact common to all companies that there is a great struggle to attract and retain talent. We know this very well and we know that this aspect will be a decisive element in the relaunch after the restructuring. We are already working on it.
Having said all this, I would like to underline that Abenewco defends and will defend by all means at its disposal, including legal action, the protection of its intellectual property and know-how, as this is a very important part of its value and its future. We will combat unlawful acts in this regard aimed at undermining our assets in a broad sense.
The future name
"The future owners of the company will decide whether to keep the Abengoa name."
The value of the brand
"How much is the Abengoa brand worth? We don't know but we do know that in the last six years it has contracted 4 billion"
Work portfolio
"Our current portfolio allows us to maintain activity and prepare for a very challenging year 2023."
Read the full interview in ABC de Sevilla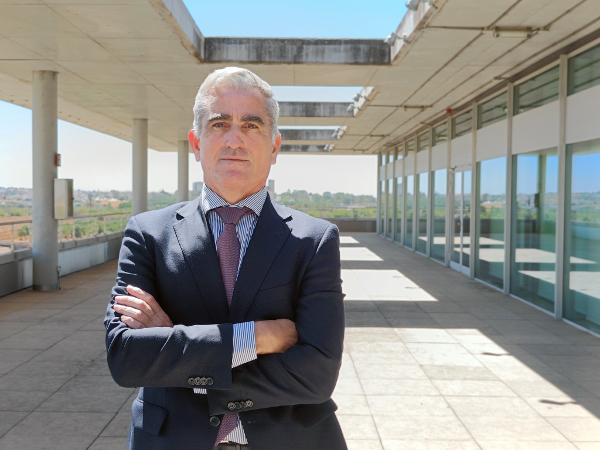 About Abengoa
Abengoa applies innovative technology solutions for sustainability in the infrastructure, energy and water sectors. (www.abengoa.com) 
Communication Department:
Rocío Castro Moreno
Tel: +34 954 93 71 11
E-mail: communication@abengoa.com
Investor Relations & Capital Markets:
Gonzalo Zubiría
Tel: +34 954 93 71 11
E-mail: ir@abengoa.com

And on our blog: http://www.theenergyofchange.com