Abengoa recognized for the second consecutive year in the MEED Awards 2021
December 30, 2021
In the National Winner category, Abengoa has been awarded for the Salalah desalination plant (113,650 m3/day), located in Oman.
MEED is the Middle East's market intelligence platform and a prestigious institution in this region.
December 30, 2021 - Abengoa, an international company that applies innovative technology solutions for sustainable development in the infrastructure, energy and water sectors, has been awarded as a National Winner by the Middle East market intelligence platform, MEED, in the eleventh edition of the awards organized annually by the platform. Specifically, Abengoa received the award in the Water Project of the Year category for the Salalah reverse osmosis desalination plant in Oman.
In this edition, MEED received more than 300 nominations, among which Salalah was selected as a true benchmark of quality and excellence, based on a variety of criteria including innovation, sustainability, social impact, design, construction, engineering, health and safety, and, above all, execution.
The award was presented at a gala ceremony held by MEED on December 8 in Dubai. The company was represented by Álvaro Solana, Director of Business Development Middle East.
Regarding the Salalah desalination plant, Abengoa, in consortium with Fisia Italiampianti, was responsible for the engineering, supply and construction of this 113,650 m3/day capacity project, the scope of which included seawater collection, pre-treatment, reverse osmosis system with energy recovery, post-treatment, product water storage and brine discharge through an outfall.
The Salalah desalination plant, which began producing water in December 2020, was developed for a consortium led by ACWA Power and also comprising Veolia and Dhofar International for Investment and Development Co SAOG. The Oman Power and Water Procurement Company (OPWP) acted as offtaker. This plant will strengthen the supply of drinking water to this region in southern Oman and its facilities are designed to produce up to 120,000 m3/d if required.
The Salalah desalination plant represents an important challenge from the point of view of its design and construction, as it is capable of adapting to the changing climatic conditions in the area and, in particular, to the worsening seawater quality caused by the meteorological phenomenon known as "Khareef". This phenomenon, which occurs during the months of June to September, causes an increase in microbiological activity which, together with rainfall, wind and waves, contributes to a significant increase in suspended solids, algae and seawater turbidity.
In addition to this award, in 2021 Abengoa has been recognized for its international leadership position in the desalination sector by the IDA Water Security Handbook 2021-2022 and GWI, ranking fourth for its contracted desalination capacity in 2020 and 2021, and fifth since 2010. It also ranks first in the "Top International Contractor 2021" ranking recently published by ENR (Engineering News-Record), a reference platform in the construction sector, in the Treatment and Desalination category.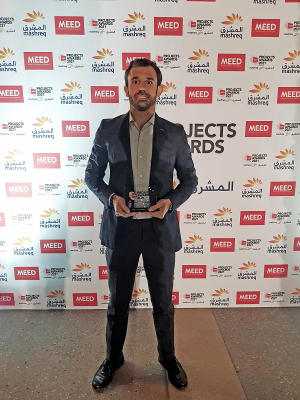 Clic here to download in HD.
About Abengoa
Abengoa applies innovative technology solutions for sustainability in the infrastructure, energy and water sectors. (www.abengoa.com) 
Communication Department:
Marián Ariza
Tel: +34 954 93 71 11
E-mail: communication@abengoa.com
Investor Relations & Capital Markets:
Gonzalo Zubiría
Tel: +34 954 93 71 11
E-mail: ir@abengoa.com

And on our blog: http://www.theenergyofchange.com