Abengoa obtains UNE 19601 Certification for its Compliance Management and Criminal Prevention System
January 26, 2021
Certification captures best practices in preventing the commission of crimes, reduces criminal risk and promotes the momentum of the compliance culture in Abengoa and its main subsidiaries.
January 26th, 2021 - Abengoa, the international company that applies innovative technology solutions for sustainability in the infrastructure, energy and water sectors, has obtained the UNE 19601:2017 Criminal Compliance Management Systems Certification for its Compliance and Criminal Prevention management system, in Spain in 2020. The standard establishes the requirements for implementing a system of compliance management and criminal prevention in accordance with the provisions of the Spanish Penal Code, including its revision, supervision, continuous improvement and evaluation of the performance of the model and its responsibility. The certification includes the perimeter of Abenewco1, SA., Abengoa Energía, SA, Abengoa Agua, SA, Instalaciones Inabensa, SA, and Abengoa S.A.
The certification, and the inherent audit process, accredits that the management model for criminal risk prevention meets the requirements of the standard and contributes to building trust in a controlled environment. All corporate areas of the company and business units, led by the Compliance Unit, have participated in the process, highlighting the process of identifying, evaluating, controlling and preventing the risks arising from your current business.
The audit, carried out by AENOR, supports the correct implementation in the aforementioned perimeter of Abengoa of compliance management and criminal prevention system, which is part of the common management systems of Abengoa. Its purpose is to consolidate in Abengoa the culture of compliance and respect for the current legality, with the aim of reducing criminal risk, preventing the commission of crimes within the legal entity and promoting the training of employees, management and administrators in compliance beyond the letter of the rule. Abengoa and its subsidiaries have ratified Miguel Angel Jiménez-Velasco as director of Compliance. 
Among other actions, Abengoa keeps its irrigation identification and control environment up to date; its processes of early detection of wrongful cases and denunciation of authority and emphasis has been given to the independence and autonomy of the Compliance Directorate under the supervision of the Commission and the Board of Directors. The cornerstone of the prevention system lies in the formation and constant updating of employees, administrators and senior management of companies, their manifest willingness to act in accordance with law and the criterion of zero tolerance with unlawful conduct, contained in the Code of Conduct and opened through the Complaints Channel open to employees and external third parties.
Achieving this certification allows Abengoa to deploy greater control in the field of due diligence procedures, both in internal processes, affecting staff in specially exposed positions, as well as in external processes, strengthening collaboration with business partners, suppliers and customers, and increasing surveillance in relation to the financial and non-financial controls of Abengoa's management system.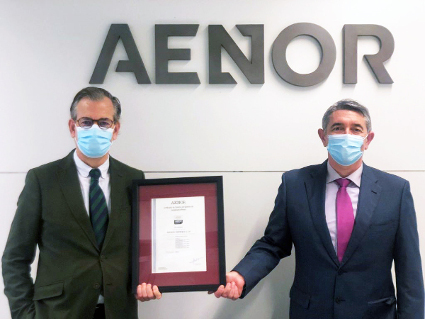 Abengoa's Chief Compliance Officer, Miguel Ángel Jiménez-Velasco, during the presentation of the certification.
About Abengoa
Abengoa (MCE: ABG/P:SM) applies innovative technology solutions for sustainability in the infrastructure, energy and water sectors. (www.abengoa.com)
Communication Department:
Marián Ariza
Tel: +34 954 93 71 11
E-mail: communication@abengoa.com
Investor Relations & Capital Markets:
Gonzalo Zubiría
Tel: +34 954 93 71 11
E-mail: ir@abengoa.com

And on our blog: http://www.theenergyofchange.com