Abengoa participates in Seville in the space exhibition "Stellaris"
December 5, 2019
A large tent in the center of Seville hosted an exhibition to bring space exploration closer to the public
Abengoa was invited to present its space projects in the "Curiosity Corner" inside the tent.
December 5, 2019 - Abengoa (MCE: ABG / P: SM), the international company that applies innovative technology solutions for sustainability in the infrastructure, energy and water sectors, participated in an exhibition organized by Airbus called "Stellaris: bringing space to Earth". The objective of the exhibition was to explain space exploration developments and future plans for a lunar village. The event took place from November 26 to 28 in Seville (Spain) coinciding with the European Space Agency´s (ESA) Ministerial Council meeting taking place those same days in the city.
Abengoa was invited to give a talk in the "Curiosity Corner", a space dedicated to conferences within the installation, to present its projects with the ESA on consumables and fuel production on the Moon from local resources. In the conference "How to obtain oxygen on the Moon?" people of all ages learned about a technological demonstrator and what technologies are being developed by Abengoa with Airbus and other companies to produce water and oxygen from the metal oxides contained in lunar regolith (lunar "rock "). This project is part of ESA's activities regarding sustainable use of space resources.
The use of space resources combines strategic sectors for Abengoa, such as the generation and storage of renewable energy using local resources, water treatment and purification, construction of infrastructure in remote locations or harsh environments, as well as the management, recycling and reuse of resources, with the idea of developing them now for space. With these projects, industrial activity can expand beyond the traditional aerospace industry to cover other sectors, now that Spain is increasing its contribution to ESA by 5.9%
This activity puts the finishing touch on the activities of Abengoa´s team in the area of Innovation to communicate its activities in the aerospace sector, from its electronics products, power distribution and automatic test equipment, to its space R&D projects.
In collaboration with the city of Seville's initiative to bring space exploration closer to the public as part of its presidency of the Ariane villa network (CVA) during 2019 and taking advantage of the ESA Ministerial Conference being held in the same city, Abengoa Innovation has had multiple activities during the past months: starting with the visit of the Director of the International Space Station to Abengoa´s headquarters Campus Palmas Altas, giving a conference in the Aerospace Forum of Andalusia at the School of Engineers of the University of Seville, entitled "Challenges in space exploration: an opportunity for Abengoa", participating in the Seville-New Space Forum, or organizing an open day workshop with students of the University of Loyola Andalucía and the University of Seville among others.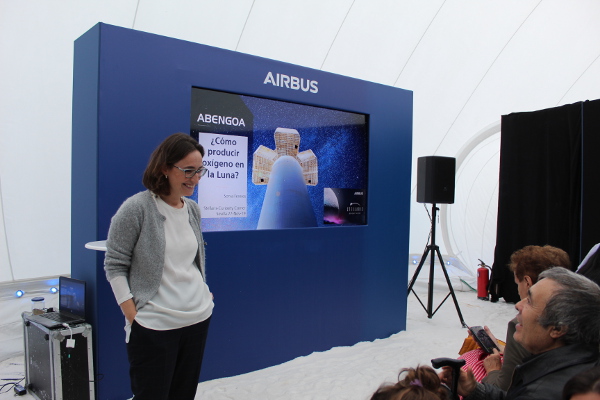 Sonia Fereres Rapaport, senior thermal engineer at Abengoa.
Donwload high resolution image.
About Abengoa
Abengoa (MCE: ABG/P:SM) applies innovative technology solutions for sustainability in the infrastructures, energy and water sectors. (www.abengoa.com)
Communication Department:
Marián Ariza
Tel: +34 954 93 71 11
E-mail: communication@abengoa.com
Investor Relations & Capital Markets:
Gonzalo Zubiría
Tel: +34 954 93 71 11
E-mail: ir@abengoa.com

And on our blog: http://www.theenergyofchange.com