Abengoa's Campus Palmas Altas wins first prize in the Prime Property Award for Sustainable Real Estate Investment 2010
October 5, 2010
Madrid, 5 October 2010.- The Campus Palmas Altas, Abengoa's corporate headquarters designed by Richard Rogers, has won first prize in the Prime Property Award for Sustainable Real Estate Investment 2010 from Union Investment Real Estate AG, one of the most important real estate asset management companies in Europe.
The prizes are awarded to promote sustainable development and to recognise real estate projects in Europe that reflect this commitment as well as satisfying the greater needs of society.
The jury, which analysed a total of 142 entries in 19 European countries, chose the Campus Palmas Altas for "the integration of its renewable energy sources and the most advanced technologies in a unique building that is an example of energy efficiency".
This edition of the award gave second prize to the Westside Leisure and Shopping Centre in Bern (Switzerland), designed by the architect Daniel Libeskind, while third prize went to the new Unilever headquarters in Hamburg, designed by the firm Behnisch Architekten.
The Prime Property Award is worth 30,000 Euros, divided among the three winners (15,000 Euros for first, 10,000 Euros for second and 5,000 Euros for third).
Special mentions were also given to The New City Library, designed by the architectural firm Schrammel, and SMA Solar Technology AG by HHS Planer + Architekten AG.
The candidature of the Campus Palmas Altas in this edition of the Prime Property Award was thanks to Bovis Lend Lease, a leading global project and construction management company, and one of the companies that participated in the construction of the centre.
The Campus Palmas Altas is the largest private-initiative business-technology complex in southern Spain and is a focal point for Abengoa's activities, surrounded by the most advanced technologies, environmental excellence and sustainable development. The centre is the best example of Abengoa's commitment to the fight against climate change and consequently to sustainable architecture. It is a space that is associated with high-tech symbols and an example of environmental management excellence, which incorporates the latest concepts in sustainable development, especially those related to the latest advances in energy savings and efficiency, while also being integrated into the environment and the future.
Abengoa is a technology company that applies innovative solutions for sustainable development in the infrastructures, environment and energy sectors. It is listed company and its five business groups of Solar Energy, Bioenergy, Environmental Services, Information Technology, and Industrial Engineering and Construction are present in more than 70 countries. (www.abengoa.com)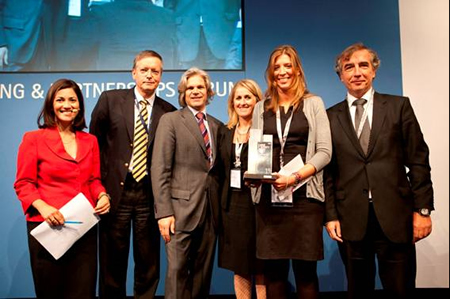 From left to right: Mishal Husain, from BBC Global News; Dr. Frank Billand, member of the Management Board of Union Investment Real Estate and jury member; Garrie Renucci, from Gardiner and Theobald and jury member; Nadia Boschi, Southern Europe Regional Sustainability Manager Bovis Lend Lease; María Victoria Sánchez Jiménez, from Abengoa, and Alberto de Frutos, Southern Europe Regional Director Bovis Lend Lease.