Teyma USA Inc acquires US firm Abacus Project Management
June 24, 2010
Seville, 24 June 2010. Teyma USA Inc, the US industrial construction subsidiary of Abengoa, has acquired the US firm Abacus Project Management.
Abacus Project Management, which was acquired for its full value, is a leader in the construction and project management sector in which it has operated over the last 20 years in the public and private sectors in California and Arizona. The company has offices in both states but has the capability to take on projects across the whole country. Abacus' projects include the airports in Phoenix and Tucson (Arizona), Chapman University (California) and various important infrastructure projects on the east coast of the USA.
This acquisition will enable Teyma USA Inc to continue to grow in the USA as well as providing it with specialised local resources for developing and carrying out different energy projects involving solar power and bioenergy. One of the projects currently being developed by the company, in consortium with Abener, in the North American market is Solana, the largest thermosolar plant in the world, with 280 megawatts of power.
Teyma USA Inc belongs to Teyma, a company comprised of Teyma Construction, Teyma Environment, Teyma Forestry, Teyma Spain and Teyma International (www.teyma.com).
It is present on four continents and offers construction and engineering services for turnkey industrial projects aimed at the renewable energy sector, including solar energy, biofuels and generation; civil, electrical and water infrastructures; architecture and urban services
Teyma belongs to Abeinsa, the head of Abengoa's industrial construction and engineering business group, a technological company that applies innovative solutions for sustainable development in the infrastructures, environment and energy sectors (www.abengoa.com).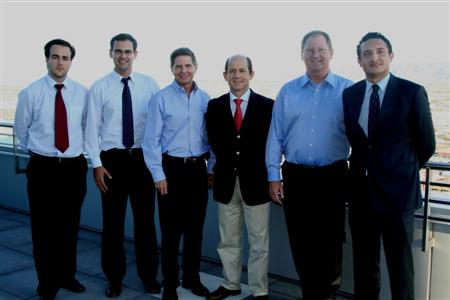 Left to right: Santiago Duran, Leonardo Maccio, Jeff Turner, Alejandro Fynn, Russell Thomson, and Ruben Hens.