Befesa records profit after tax of €40.9 million
February 24, 2010
Sales from the water generation and management activity grow 29%
Erandio, 24 February 2010. Befesa's consolidated sales fell by 17% to €721.8 million in 2009, compared to €873.4 million the previous year.
EBITDA fell by 25% from €157.8 million in 2008 to €118.7 million in 2009. Excluding the effect of extraordinary income in 2008 from the sale of land of Befesa's desulphurisation plant in the municipality of Baracaldo (Vizcaya), there was a 1% increase in 2009 compared to the €117.8 million recorded in 2008.
Similarly, the EBITDA over sales margin, excluding the aforementioned extraordinary income, improved from 14% in 2008 to 17% in 2009. This improvement in profitability is a clear demonstration of the robustness of Befesa's business model, which continues to record good levels of profitability despite the general downturn in the industry.
Income after taxes attributable to the parent company was €40.9 million, a decrease of 30% compared to €58.7 million in 2008. To make a like-for-like comparison of profit after tax in 2009 with 2008, the result is a 24% increase in profit after tax attributable to the parent company compared to the previous year.
The evolution in the results for 2009 is shown below.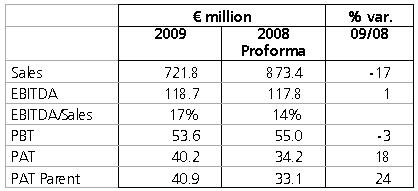 The above results represent earnings per share of €1.51, lower than the €2.17/share obtained in 2008.
The distribution of sales by business unit is shown in the table below.

Waste recycling. The aluminium and steel waste recycling activities, as well as industrial waste management have all been affected by the global economic situation and the volume of treated waste has fallen by 26% from 2.5 million tonnes to 1.8 million tonnes managed. As a result, sales in these activities have fallen by 34%.
Water. This business area has a significant increase in the activity based fundamentally on the international business with the foundations for future growth. Total sales increased by 29% to €298.5 million compared to €230.6 million in 2008.

Some 51% of Befesa's total revenues have come from its activities abroad, with the same level of internationalisation as the previous year.
Significant events during the year included Befesa's acquisition of the production assets of the German companies Aluminium-Salzschlacke Aufbereitungs GmbH and Alsa Süd GmbH, the 100% owned subsidiaries of Agor AG that specialise in treating and recycling salt slags. The assets acquired consist of three production plants in the German municipalities of Hanover, Lünen and Töging with a combined treatment capacity of 400,000 tonnes of waste per year, which are equipped with the most advanced technology available in the market and have a replacement value of more than €100 million. This acquisition makes Befesa the leading salt slags recycling company in Europe with five production plants strategically distributed across the European continent.
In July, Befesa completed the financing to design, construct and operate the sea water desalination plant in Qingdao, China for a term of 25 years. The project, which will require a total investment of €135 million, will have a capacity to desalinate 100,000 cubic metres of water a day and will be able to supply drinking water to some 500,000 people. It is estimated that the plant will generate revenues of more than €654 million from the sale of water during its operation.
Finally, in the area of R&D+i, Befesa launched a new R&D+i centre in Dos Hermanas (Seville), which is an important milestone in the company's history as it will play a key role in allowing Befesa to achieve its ambitious innovation objectives. The facilities have state-of-the-art and sustainable infrastructures equipped with scientific and technological resources that will give Befesa a leading technological position as well as making it an international leader in the areas in which it operates, such as integral cycle water management (especially desalination and reuse) and industrial waste treatment. The facilities have a total of 3,000 m2 mainly allocated to experimentation areas, laboratories, offices, a control room, an exhibition room and a multiuse room, and it has a capacity for 70 researchers.
Javier Molina, Chairman of Befesa, said "2009 has been a year of great challenges due to the difficult global economic situation, in which the crisis has affected Befesa's results notably less than the sectors in which we operate thanks to the diversification and internationalisation of our activities, as well as the management policies implemented and the company's solid financial structure".
Befesa, the environmental services subsidiary of Abengoa, focuses on providing environmental services to industry and the construction of environmental infrastructures. It is a public listed company with a market capitalisation in excess of €401 million (close 2009). (www.befesa.com).