Abengoa Solar becomes founding partner of the Desertec Industrial Initiative project
July 13, 2009
Madrid, July 13, 2009 - Today in Munich, Germany, Abengoa Solar signed an agreement to join as a founder member the Desertec Industrial Initiative, a project born under the auspices of the Club of Rome and other institutions. This project seeks to develop renewable energy production in the desert regions of Northern Africa and the Middle East for both local use and for exportation to Europe.
This initiative, which has been promoted by Abengoa Solar and eleven other international companies, is aimed at meeting 15 percent of Europe's energy needs, and a substantial part of the demand in Northern Africa and the Middle East, via concentrated solar plants and other renewable sources of energy by 2050. Because the land in these regions provide superior solar radiation, it will be possible to gain access to clean energy at a lower cost. Thus, the project will have a very significant impact on the economic and social development of Northern Africa, the Middle East, and Europe.
To this end, over the course of the next few years, the companies and institutions comprising Desertec will develop a plan in conjunction with governments and other stakeholders to enable future construction of power plants based on solar energy and other renewable sources, in addition to the electrical power transmission needed to transport part of this electricity to Europe.
Abengoa is a pioneer in the construction of solar power plants in Northern Africa and the Middle East with two Integrated Solar Combined Cycle, ISCC, plants in Ain-Ben-Mathar (Morocco) and Hassi-R'mel (Algeria).
Santiago Seage, CEO of Abengoa Solar, expressed his satisfaction upon signing the agreement for the company to join this ambitious project, pointing out that "Northern Africa and the Middle East are undoubtedly areas with a tremendous solar energy potential, for both the region's own use as well as exporting as soon as we have the necessary infrastructure and regulatory measures in place. This initiative should bring us closer to making this vision come true. Abengoa Solar is contributing its expertise in innovative solar technologies to this international group of partners."
Desertec Industrial Initiative founding members are ABB, Abengoa Solar, Cevital, Deutsche Bank, EON, HSH Nordbank, Muenchener Rueca, M+W Zander, RWE, Schott Solar, Siemens and Solar Millennium/MSM. ABENGOA SOLAR
Abengoa Solar focuses its activity on the development and application of technologies for generating electrical power with the sun. (www.abengoasolar.com)
Abengoa is a technology company that applies innovative solutions for sustainability in the infrastructure, environmental and energy sectors. The company is listed on the Spanish Stock Exchange and is present in more than seventy countries, in which it operates through its five Business Units: Solar, Bioenergy, Environmental Services, Information Technologies, and Industrial Engineering and Construction (www.abengoa.com).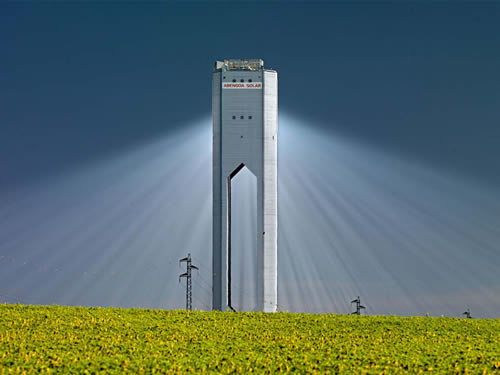 PS20, world largest solar power plant
Two first power tower plants in commercial operation in the world and 50 MW parabolic trough plant