Results First Quarter 2009
May 7, 2009
Ebitda reached 176 M€, an 11 % increase.
The consolidated Sales increased by 12 %, and reached 981 M€.
Seville, May 7th, 2009.- The international activity and the investments in solar energy, biofuels, desalination and energy transmission were all determining factors in Abengoa's positive results for the first quarter of the year.
The consolidated sales increase by 12 %, and reached 981 M€, generating an Ebitda figure of 176 M€, an 11% increase on the last year. The earnings after tax attributable to the parent company reached 41 M€, which is a 17 % increase on the previous year's figure of 35 M€.
The generation of innovative solutions for sustainable development, in a world that clearly needs such solutions, will shape Abengoa's results in the future.
By activities, the Solar business unit's consolidated sales were 17 M€ compared to 7 M€ for the same period the previous year, being of note the successful launch of the 20 MW thermosolar plant using tower technology in Sanlúcar la Mayor (Seville) on April 2009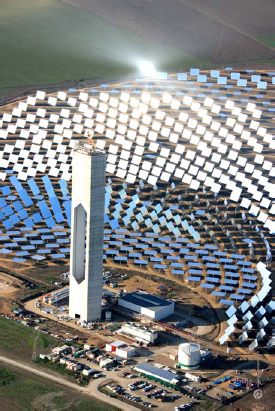 PS20 solar power tower plant in Sanlúcar la Mayor (Sevilla)
The Bioenergy business group recorded sales of 179 M€ compared to 217 M€ in the previous period, a decline of 18% due to the lower price of ethanol despite the higher volume of sales.
The Environmental Services business unit's sales were 160 M€ in the first quarter 2009, compared to 214 M€ for the same period the previous year, with a 25 % decrease, mainly due to the decrease of industrial waste volume treated in all business areas. The desalination plant in Chennai (India) was launched at the start of April. This project, which has a capacity to desalinate 100,000 cubic metres of water a day, is the first desalination concession in India, where the company already has a project engineering and development office employing more than 40 people through the company's Befesa Infrastructures India subsidiary.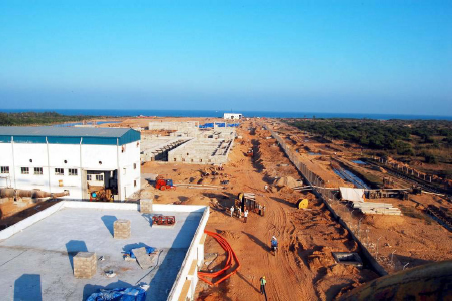 Desalination plant in Chennai (India)
The Information Technologies business unit's sales were 176 M€ as against 136 M€ the previous year (a 30 % increase).
Finally, the Industrial Engineering and Construction business unit's sales were 607 M€, a 54 % increase on the 395 million euro achieved in the same period the previous year. Of particular relevance has been the progress in the construction of the hybrid solar plants in Algeria and Morocco.
Comparing the quarterly results on a like-for-like basis, excluding the positive impact in the first quarter of 2008 of the capital gain from Befesa's sale of the land in Baracaldo, Ebitda grew by 49 % and profit after tax grew by 126 %.
Complementary Information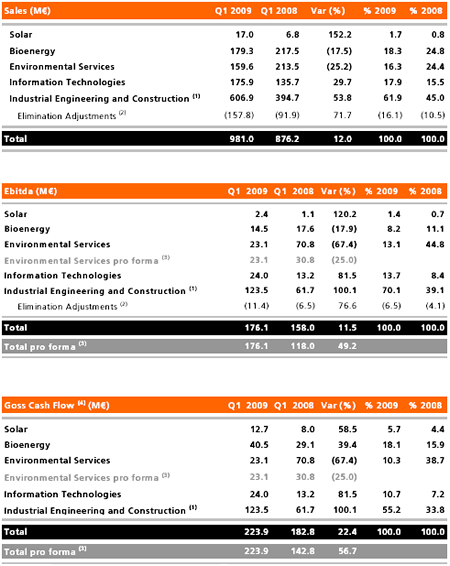 (1) Including corporate activity and consolidation adjustments
(2) Eliminations in Industrial Engineering and Construction for the internal works of not concessional projects
(3) Excluding the effect associated with the sale of Befesa Desulfuración's land, in Baracaldo
(4) Earnings before interest, tax, depreciation and amortization, adjusted by the works flows done for own fixed assets