Barakaldo, 25 February 2008. Befesa's results for 2007 improved significantly over the previous year. EBITDA increased by 113.3 percent and profit after tax by 102.3 percent. This year we have successfully completed the integration of BUS Group AB, acquired by Befesa at the end of 2006. We have also signed an agreement with Qualitas Equity Partners to integrate our aluminium waste recycling business with Aluminio Catalán (Alcasa) in a joint venture, in a deal that will create the third largest company in the European aluminium waste recycling market. Our water generation and management business is consolidating both in Spain and abroad, where we are already a world leader in desalination.
Befesa's consolidated sales in 2007 totalled 769.7 million euros, equivalent to a 38.6 percent increase compared to the 555.3 million euro the previous year. Excluding sales from BUS, which totalled 170.5 million euro for the year (in December 2006 it contributed 19.5 million euro), the total increase was 63.4 million euro or 11.8 percent higher than 2006.
EBITDA increased by 113.3 percent to 123.8 million euro compared to 58 million euro the previous year. Excluding the EBITDA from BUS of 49.9 euro million, earnings grew by 27.4 percent.
Income after taxes attributable to the parent company was 47.6 million euro, an increase of 102.3 percent compared to the 23.6 million euro in 2006. Profit after tax from BUS was 14.5 million euro, which when excluded, represents a 40.7 percent increase in PAT over the previous year.
The evolution in the results for 2007 is shown below.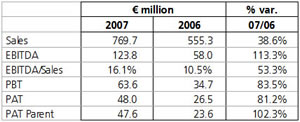 These results represent earnings per share of 1.76 euro compared to 0.87 euro in 2006.
The following table shows the distribution of sales by business unit.

Aluminium Waste Recycling. Sales were 4.9 percent lower compared to the previous year, principally due to the lower aluminium price. Some 356,000 tonnes of aluminium waste was treated during the year, an increase of 0.3 percent over 2006.
Steel and Galvanisation Waste Recycling. Sales for the year increased by 230.3 percent to 251.8 million euro compared to the 76.3 million euro in 2006. Excluding sales from BUS Group AB in 2007 and December 2006 (when it was incorporated into Befesa) of 170.5 million euro and 19.5 million euro respectively, the company's sales grew by 43.3 percent to 24.6 million euro compared to the previous year. This was principally due to the increase in the production capacity from the construction and assembly of the new furnace at the Asúa-Erandio plant (Vizcaya), which was launched in September 2006. A combined 662,000 tonnes of steel and galvanisation dusts were treated during the year, an increase of 445 percent compared to the 122,000 tonnes in 2006.
Industrial Waste Management. The Industrial Waste Management business unit recorded sales of 124.3 million euro compared to 110.2 million euro the previous year, equivalent to a 12.8 percent increase. More than 1,338,000 tonnes of industrial waste were treated in 2007, an increase of 4.3 percent on the previous year.
Water. Sales for this business unit increased by more than 25.9 percent to 175.5 million euro in 2007 compared to 139.4 million euro in 2006, thanks to desalination contracts from abroad.

Our activities are increasingly internationalised. In 2007, 47 percent of total sales came from abroad, compared to 29 percent in 2006.
In addition to the integration with Alcasa, other significant events include the launch of the industrial waste transfer plant in Deba (Guipúzcoa), which complements our presence on the Iberian Peninsula for providing an integral industrial service. In the water activity, this year saw the completion of financing for the desalination plant in Temclem-Honaine (Algeria), which will produce 200,000 cubic metres of water a day; and construction of the Chennai desalination plant in India has begun, which will have a capacity of 100,000 cubic metres/day. We have also been awarded various works under the Spanish National Irrigation Plan and the Spanish Water Plan, where we are the national leaders in hydraulic infrastructures.
In 2007 Befesa completed the process to adapt its internal control structure for financial information to the requirements of the Sarbanes-Oxley Act (SOX). Although this law is only obligatory for listed companies in the US market, according to the instructions of the US Securities and Exchange Commission, Befesa has decided that the whole of the group will be included in this project, as part of its policy on transparency and reliability to third parties, its own employees and its shareholders.
Furthermore, we have subjected the internal control system for the whole of the group to a voluntary assessment and 2007 is the first year in which our external auditors have issued a favourable opinion on it, based on the PCAOB (Public Company Accounting Oversight Board) auditing standards applicable to listed companies in the United States. This opinion is included in the financial statements and strengthens our commitment to transparency in order to continue to guarantee the reliability of all of the financial information prepared by Befesa.
For Javier Molina, Chairman of Befesa, "the evolution in Befesa's results in 2007 has been excellent. I would like to highlight the improvement in EBITDA over sales, which has risen from 10.5 percent to 16.1 percent as a result of the higher quality of our sales mix. This will help us to consolidate our position as a leader in Europe for recycling industrial waste and generating and managing water."
Befesa, the environmental services subsidiary of Abengoa, focuses on providing industrial environmental services and constructing environmental infrastructures. It is a public listed company with a market capitalisation in excess of 550 million euro (close 2007). (www.befesa.com).