The organizers of the "Best of European Business" prizes, Roland Berger Strategy Consultants, CNN channel and the IESE Business School, have awarded Befesa first prize in the "Mergers and Buyouts-Medium-size Companies" for its B.U.S. Group AB buyout transaction. The prize-giving ceremony was held on November 14 in the Madrid Stock Exchange building.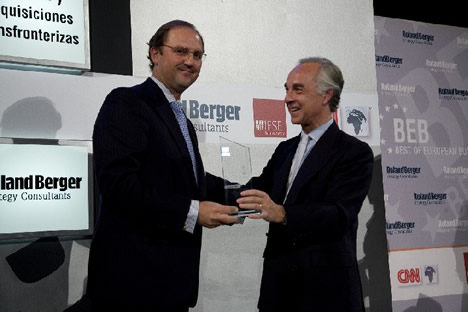 The prizes are awarded in more than ten European countries and there were three categories in this year's edition: Profitable Growth, Cross-border Mergers & Acquisitions and Grand Prix , differentiated for large and medium-size companies. These prizes are in response to the objectives the European Union set via the Lisbon Agenda to achieve a more competitive and dynamic Europe by 2010.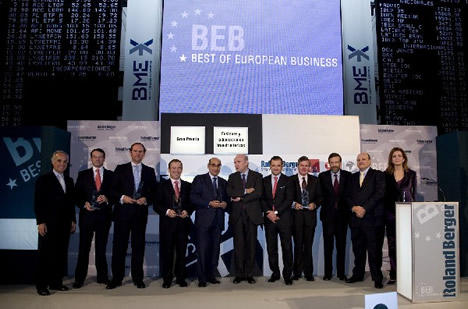 The jury that awards the prizes is formed by Pedro Ballve, chairman of Campofrio and Telepizza; Jordi Canals, rector of IESE Business School; Angel Corcostegui, ex managing director of Banco Santander and chairman of Magnum Capital Partners; Guillermo de la Dehesa, managing director of Banco Santander and vice-president of Goldman Sachs Europe; Javier Gomez Navarro, president of the Superior Council of Chambers of Commerce of Spain and chairman of Aldeasa; Amparo Moraleda, president de IBM Spain, Portugal Greece, Israel and Turkey; and Juan Ramon Quintas, president of the Spanish Confederation of Savings Banks.
Other prizewinners in this edition were Grupo SOS, Telefónica, Iberdrola and Sener Grupo de Ingeniería.
Last year, Befesa signed a 330 million euro purchase agreement to buyout one hundred percent of the shares of B.U.S. Group AB, the largest recycler in Europe of industrial waste generated during ordinary steel and stainless steel manufacturing processes, with treatment plants in Germany, Sweden and France. During the course of this year, the final chapter in a successful integration process with the change of names of the companies, adopting Befesa name.