Abengoa Mexico has started the facilities construction of "Sistema de Desarrollo Sustentable (SDS)" for Befesa México in Zimapán (Hidalgo, Mexico).
This Project will provide to the Central Area of Mexico a Center of Treatement and final disposal of Industrial Residues.
Project consists of the following:
a) Access Highway
That will connect the city of Zimapan with the plant.
Description: width six meters; length 14.2 km and a maximum slope of eight per cent. Over it, will transit heavy weight vehicles.
It includes the construction of two bridges length 64 m and 18 m, respectively.
b) Safety Dump
This is being constructed taking advantage of a natural hollowness. The necessary cuts and fillings will be performed as well as Bentonita, Geosintetic and y Membranes protections to warrantee the raincoats (waterproof) stated by the current norms.
An access way has been constructed for heavy vehicle transit. It includes drainage systems and lixiviated recollection which will thereafter be treated in the lixiviate plant.
Total volume is of 450,000.00 m 3.,
c) Several Industrial and Administrative Installations:
1) Lixiviated Plant (water with solid substance).
2) Inertization Plant
3) Surveillance Booth & Scale.
4) Analysis Lab
5) Administrative Offices
6) Services' Building
7) Auto and Truck Parking
8) Clasification Yard
9) Temporary warehouse / storage
9) Emergency storage
10) Maintenance Workshop
11) Truck Wash Area
12) Other Auxiliary facilities
Project started on October 2006 and is expected to finish the end of this year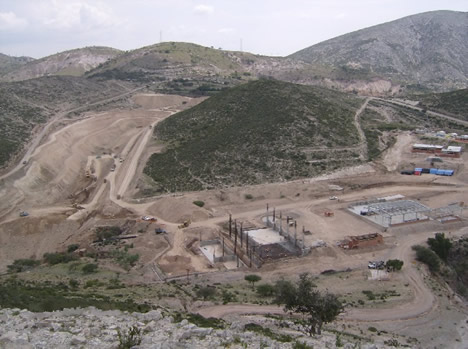 Photograph July 2007