As invitation of the Spanish Office of Climatic Change, Abengoa participated in the "Azahar advanced Seminar" from 12 to 14 September 2006 in Tangier, Morocco. The "Azahar" program combines the efforts of the Spanish administration about cooperation in the sustainable development, environmental protection and preservation of natural resources in the Mediterranean area.
"Azahar" is aimed at three large sub-regions of the Mediterranean area: the Maghreb, the Middle East and the Southeast Europe, and focused first and foremost on countries such as: Algeria, Morocco, Mauritania and Tunisia in the Maghreb; Egypt, Jordan, Lebanon and the Palestinian Territories in Middle East and Albania, Bosnia-Herzegovina, Serbia and Montenegro in the southeast of Europe. These countries have more than 165 million inhabitants and due to their demographic increase represent the greatest challenges for the sustainable development in the region.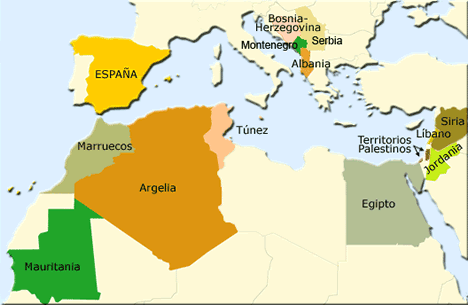 The clean development mechanism is an instrument created by the protocol of Kyoto in order to help developing countries to reach a sustainable development, as well as to allow developed countries to fulfill their commitments about restriction of emissions by using the Certified Reductions of Emissions from projects in developing countries and aimed at reducing the anthropogenic emissions by fountains or increasing the absorption by drains.
The presentation of Abengoa's strategy for this kind of projects was carried out by Emilio Rodríguez-Izquierdo Serrano from Abeinsa, who summed up Abengoa's contributions to the different sectorial funds of development of CDM projects, Abengoa's results with regard to rights of emissions for the Kyoto period of 2008-2012, as well as the guidelines for Abengoa's possible participation in this kind of projects.
The seminar provided a fruitful exchange of ideas and experiences among the participants, which came to specific initiatives of projects of reductions of emissions of CO2. It is remarkable the commitment and enthusiasm of the different countries for undertaking projects that make the Mediterranean a region where environment and sustainable development of the countries come together.