On December 10th, the EU published its first ever Ranking of the 500 European industrial companies that invest most in R&D, in which Abengoa is in 329th place. These 500 companies invested a total of 100.8 B € in 2003, 1.2% less than in 2002, while the investment in R&D by the 500 major Non-European companies increased by almost 3.7% and reached 195.6 B € (exchange rate 1.26 $ USA/€).
This Ranking has been established as one of the means to control the evolution of R&D investment so that it may reach 3% of the GNP, the percentage figure established at the Barcelona Summit for 2010, which is still a long from being achieved. To meet this objective, the R&D investment by companies would have to experience an annual 10% growth rate until then.
Abengoa is the seventh Spanish company that most invests in R&D.
The Spanish companies that most invest in R&D are: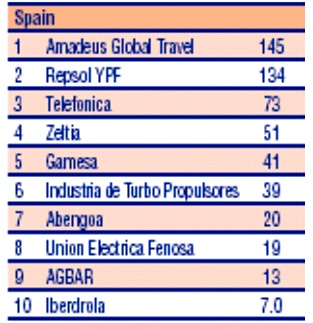 Concentration
The investment in R&D is concentrated mainly in three countries - Germany, France and the United Kingdom – totaling 74%.
Likewise, the four main sectors (from a total of 31) – Automobile, Pharmacy, IT Hardware, and Electric and Electronic Equipment – are responsible for 67% of the investment as against 37% of the sales.
The 20 main companies are responsible for 55% of the overall investment.
Further information: eu-iriscoreboard.jrc.es/index.htm