EBITDA came to 91.1 million euros (a 1.7% increase).
Operating profit of Bioenergy Business Unit increased 20.6% compared with the previous year.
Seville, on September 1st 2004.- Abengoa's consolidated sales for the first six months of 2004 financial year came to 800.6 million euros. Bioenergy Business Unit sales for the same period were 153.2 million euros and EBITDA was 17.0 million euros, which is 20.6% higher than values registered for the same period of the previous financial year, in spite of the 10% depreciation of the dollar (currency in which Bioenergy obtains half of its income) in relation to the euro. Information Technology Business Unit, also affected by the depreciation of the dollar, reached 15.9 million euros of EBITDA during the first six months of 2004 versus 15.2 million euros in the same period of the previous year due to the increase in sales of higher added value applications. Environmental Services Business Unit sales reached 166.4 million euros, in spite of being affected by the sale of the water concession businesses towards the end of last year. In sales, Industrial Engineering and Construction Business Unit came to 344.2 million euros for the year, a 10.7% increase over the same period in 2003, in which sales reached 311.0 million euros, with good outcomes in both national and overseas activity.

The EBITDA figure (Earnings before interest, tax, depreciation and amortization) was 91.1 million euros which is a 1.7% increase from 89.6 million euros for the first six months of the previous year.
By Business Units, Bionergy and Information Technologies increased their contribution to EBITDA, while Environmental Services, which has been influenced by the above mentioned divestments in the previous year, and Industrial Engineering & Construction decreased.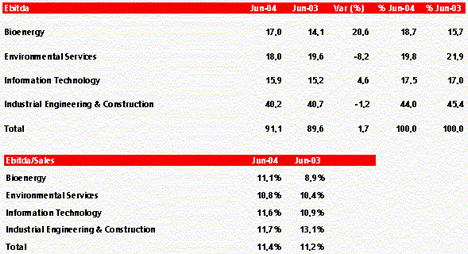 The net profit attributable to the parent company has increased 0.9% compared to the same period in 2003 and has reached 21.8 million euros.
Among the novelties and the most significant contracts awarded in the first half of 2004, we highlight the following:
Bioenergy
Together with Kraul & Wilkening u. Stelling Kommanditgesellschaft-Gmbh& Co. (KWST), a contract has been signed with PCK to supply 43 million liters of dehydrated bioethanol to its Schwedt refinery (Germany) during the course of 2004. PCK is a joint venture established by British Petroleum (37.5 per cent), Shell (37.5 per cent), Total (16.6 per cent) and Agip (8.4 per cent), in whose refinery some 9.5 million tons of crude oil are processed per annum.
In April, an agreement was signed with Nordic Biofuels of Nebraska, L.L.C. by means of which Abengoa Bioenergy has now become the majority partner in the project that promotes the future construction of an ethanol facility in Ravenna, in the State of Nebraska.
As a consequence of Abengoa Bioenergy's share in the project, initially known as Nordic Biofuels of Ravenna L.L.C, this company would now be called Abengoa Bioenergy of Ravenna. Once construction of the facility has been completed, Abengoa Bioenergy of Ravenna would be able to produce 332 million liters of ethanol a year, and would thus become the largest ethanol facility in Nebraska and one of the largest in the United States.
Abengoa Bioenergy would produce, thanks to the York and Ravenna facilities, more than 529 million liters which would make it the largest ethanol producer in the State. When added to the existing facilities in Kansas and New Mexico and their foreseen expansions, Abengoa Bioenergy would become the number two ethanol producer in the United States, with an installed capacity in excess of 750 million liters a year.
The construction of the third bioethanol facility in Spain continues at a good pace. It is located in Babilafuente (Salamanca) and requires a material investment of close to 150 million euro. The facility's production capacity would be 200 M liters/year of bioethanol to be blended in gasoline. The raw material to be used would be grain, wine alcohol and biomass, the latter in a bioethanol production installation that would be the first of its kind at commercial scale anywhere in the world.
Industrial Engineering and Construction
Abengoa, through its subsidiary Inabensa, has been awarded several MV/LV Rural Electrification contracts for the Office National de L'Électricité (ONE) in Morocco for more than 24 million euros. These contracts are to be executed in the provinces of Taroudant and Chichaoua (southern area), Boulemane (central area), and Chefchaouen and Nador in the northern area.
Inabensa has been awarded a contract, under a consortium in which it holds 70%, for the Instituto Costarricense de Electricidad (ICE), for the design, construction, supply of equipment, materials and services, and the commissioning of the Palmar, Cóbano and Cahuita substations. The contract value for Abengoa is 7.2 million euros.
Awarding, under a 50% consortium, of the Project 706 contract for Comisión Federal de Electricidad de México (CFE). The contract includes eleven 230 kV, 138 kV and 115 kV Transmission Lines and 10 Substations for a total value of 78 million dollars.
Regarding solar energy, construction commenced in June 2004, on Europe's largest solar power plant that would employ tower and heliostat field technology. Its output would be 11 MW. The financing for the construction of a 1.2 MW double concentration photovoltaic power station has also been arranged. Likewise, 3 new companies have been set up to develop new solar energy projects.
Information Technologies
A contract with the Traffic Police of Xinxiang (China) to supply and install the Urban Traffic Control System, in the province of Henan. The contract value exceeds 4.5 million euros. This contract is financed by the Development Aid Fund (FAD).
Awarding of the contract to replace the data acquisition, monitoring and control (SCADA) system of the company PECO Energía (a subsidiary of Exelon Corporation with Head Offices in Philadelphia). This system is based on Telvent's state-of-the-art technology for data acquisition, monitoring and control systems SCADA, OASyS DNA and would replace the original system and would control and manage PECO' gas pipelines network. The system would control an infrastructure of 10,620 kilometers of natural gas transport and distribution pipelines as well as 29 stations providing a service to over 450,000 customers.
Signing of contracts with the Chinese Authorities to supply the automatic ticketing system and the radio communications system for Tianjin Metro. The Tianjin project, financed with FAD loans includes the commissioning of twenty two stations on a twenty seven kilometer run and its startup is scheduled for late in 2005.
Awarding of two contracts in the urban traffic control sector for 22 million euros. The first has been signed with the Rumanian entity National Administration of Roads-R.A. and the second in Salvador de Bahía, in Brazil.
Environmental Services
Awarding to GEIDA, a consortium established by Befesa, Codesa, Sacyr-Vallehermoso and ACS, by the Algerian Energy Company (AEC) of the construction and subsequent operation contract (B.O.T.) of a seawater desalination plant in Skikda (Algeria), which would require an investment of approximately 100 million euro.
Under the awarded B.O.T. project, GEIDA would have 70% of the share capital of Sociedad de Proyecto Específico (SPE) and the remaining 30% would be held by the public enterprises Compañía de Energía de Argelia (AEC) and Aguas de Argelia (ADE) for the subsequent operation of the plant for an initial 25-year period. This operation should result in earnings for the consortium of 541.7 million euros.
The plant's desalination capacity would be 100,000 cubic meters a day and it would supply water to a population of 500,000. It has to be in operation in 2007. Reverse osmosis technology would be employed in the project.
Geida, and under the same structure as indicated in point one above, has been awarded the contract for another desalination plant at Oran (Algeria), with a larger capacity than the aforementioned plant, which would enable the treatment of 150,000 cubic meters with a total investment of 125 million euros.