In its four decades of experience in the sector, Abengoa has manufactured more than 1.5 million tons of metallic structures, both for its own projects and for third parties, all over the world. Therefore Abengoa offers an integrated service, covering the entire value chain, from engineering to manufacturing, including full-scale load testing of steel structures.
Eucomsa
The Transmission and Infrastructure vertical has a factory, Eucomsa, located in Utrera (Spain), with a production capacity of 50,000 tons per year of metallic structures, all of them manufactured with high quality standards, as required by first level electric companies. Our staff has an excellent structural engineering capacity, which provides an additional value for solving problems and optimizing designs (some of them owned under patent).
Abengoa is a global benchmark in the manufacturing of metallic structures for solarthermal energy projects, having the largest number of tons manufactured and supplied in the world (supply of parabolic trough collectors and heliostats for the installation of up to 2 GW of power, being 5 GW the total capacity installed in the world). We have own designs of parabolic trough trackers patented by Abengoa that are currently in operation in several continents.
Capacities:
Manufacturing of metallic structures for transmission lines, substations, solar thermal and photovoltaic plants, wind and telecommunications towers.
Real-scale testing station.
Structural engineering.
Real-scale testing station:
In the test station located in the factory of Spain, towers up to 72 meters high can be tested by applying loads equal to those that will be loaded once in service in its real location once installed:
With design capacity and load test at a real scale.
Maximum tower width to test: 18.5 x 18.5 m.
Maximum height of the tower to be tested: 72 m.
Maximum uplift per leg: 750 Ton.
Overturning moment capacity: 12,000 Ton x m.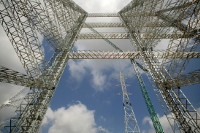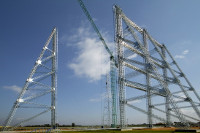 Main references:
For solar projects:
| Project | Power | Technology | Location | Property | Situation |
| --- | --- | --- | --- | --- | --- |
| | 110 MW | Parabolic trough collector solar thermal plant | Chile | EIG Energy Partners | Under Construction |
| Mohammed bin Rashid Al Maktoum (Phase IV) | 600 MW | Parabolic trough collector solar thermal plant | United Arab Emirates | Dubai Electricity and Water Authority (DEWA) | Under Construction |
| | 110 MW | Parabolic trough collector solar thermal plant | Israel | The State of Israel | Completed in 2018 |
| | 50 MW | Parabolic trough collector solar thermal plant | South Africa | Khi Solar One Pty. Ltd | Completed in 2016 |
| | 100 MW | Parabolic trough collector solar thermal plant | South Africa | Atlantica Yield | Completed in 2015 |
| | 280 MW | Parabolic trough collector solar thermal plant | United States of America | Atlantica Yield | Completed in 2015 |
| | 100 MW | Parabolic trough collector solar thermal plant | United Arab Emirates | Masdar Total | Completed in 2013 |
| | 200 MW | Parabolic trough collector solar thermal plant | Spain | Atlantica Yield | Completed in 2013 |
| | 150 MW | Parabolic trough collector solar thermal plant | Spain | Atlantica Yield | Completed in 2010 |
For high voltage transmission lines: