The United Nations Global Compact is an international initiative which promotes the implementation of 10 universally recognized principles in the areas of Human Rights, Labor Standards, the Environment and Anti-Corruption in company activities and business strategy. In 2002, we signed up to the United Nations Global Compact, by means of which we have undertaken and integrated these principles into our labor practices, in addition to upholding and ensuring fulfillment of the principles incorporated into the Universal Declaration of Human Rights.
Caring for Climate is a United Nations Global Compact initiative that brings together leading companies in climate change management worldwide. For these companies, Caring for Climate proposes a framework for action in addressing climate change and contributing to crafting public policies around this issue. Abengoa has been part of this initiative since 2008.
Abengoa is a member of the Carbon Pricing Leadership Coalition (CPLC), a joint initiative of 20 governments and more than 90 companies and other organisations, whose common aim is to foster systems and mechanisms to fix carbon prices through rates or the creation of CO2 markets worldwide, in support of the Paris Agreement.
As a result of this commitment, Abengoa has continued to develop its mechanisms for calculating internal carbon prices in 2016, to align them with the emerging climate regulation as a result of the Agreement and with the evolution of the business itself.
This year, two internal carbon pricings differ for the first time: one applicable to our businesses in countries with mature systems for taxing GHG emissions and another for countries that do not have these mechanisms: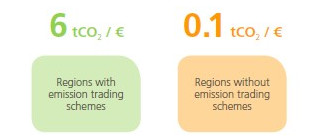 For the company, this new internal calculation mechanism makes it possible to foresee the impact of the new climate change policies as a result of the Paris Agreement and its possible derivation in CO2 levies in the different geographic areas where we operate.